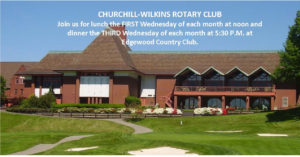 We have great speakers scheduled for our Churchill Wilkins Rotary luncheons so thanks to all for your help!
We will also be presenting donations to our local and international Rotary projects at each meeting as well.
In order to protect our friends, family and our community and in following with the COVID-19 guidelines set by the authorities, we have been meeting via zoom the first Wednesday of the month. If you are interested in joining us please contact us. Thanks and stay healthy!